Hallo lieve lezers
We beginnen de maand mei met een recensie van Upgrade, het debuut van Lara Reims. Deze recensie maakt deel uit van een blogtour. Enkele dagen geleden was het de beurt aan @indeboekenkast, morgen is @alloftheabove2016 aan de beurt.
Check de foto hieronder voor de data en deelnemende blogs.
Zoals je kan zien op bovenstaande foto, gaat het dus om Upgrade, Remi versie 1.0 van auteur Lara Reims. Dit is haar eerste boek.
Waarover gaat het boek?

Remi voelt zich al zijn hele leven anders dan anderen. Zijn ouders verbergen iets voor hem, maar hij kan er niet achter komen wat. Rémi wil weten wie hij is en gaat op zoek naar zijn ware identiteit. Maar net als hij op het punt staat antwoorden te vinden, is er die knal. Zijn huis ontploft. Van de ene dag op de andere is Rémi dus alles wat hij kent, kwijt. Inclusief zijn familie. Rémi kan niet anders dan de hand grijpen die hem vanuit de duisternis wordt toegestoken.

Hij komt terecht in het mysterieuze Creodroom, een instituut waar de wetenschap haar tijd ver vooruit is. Technologie voelt aan als magie. Robots lijken verbazingwekkend veel op mensen. Alles waar de tiener ooit over droomde, is hier werkelijkheid. Rémi wordt overrompeld door fantastische technologie en hij ontmoet jongeren die vrienden voor het leven worden. Voor het eerst voelt hij zich thuis.

Tot zijn verleden hem weer inhaalt en Rémi beseft dat hij nog steeds in groot gevaar is.
Wat vond ik ervan?
Toen ik de achterflap las, was ik meteen getriggerd. Een spannende Young Adult met in de hoofdrol vooruitstrevende technologie, het onbekende en een jongen, een vreemde eend in de bijt, en geheimen.
Het boek heeft een hardcover. De cover is prachtig, een beetje druk, maar het geeft wel het thema goed weer. De kleuren zijn ook prachtig gekozen. Bovendien lijkt een hardcover mij persoonlijk de enige goede optie voor dit boek. Ik kan me dit niet als paperback voorstellen. Het resultaat is prachtig!
Ik ben begonnen met dit boek op een e-reader te lezen. Dat las voor mij om de een of andere reden niet zo gemakkelijk. Zodra het boek in de fysieke vorm was aangekomen, ben ik dan ook in het boek zelf beginnen verder te lezen. Dat las voor mij veel vlotter weg.
Hoewel het verhaal uiteindelijk dus toch wel redelijk vlot weg las, heel filmisch beschreven en het een interessant onderwerp is, merkte ik wel enkele kleine dingen op. Vooral in het begin zijn enkele zinnen soms zo ellenlang, dat ze vier-vijf of soms meer regels bevatten. Dat is best veel. Het zorgde er soms voor dat ik die hele zin moest herlezen, omdat ik er halverwege niets meer van begreep of wist wat ik nu eigenlijk gelezen had.
De auteur introduceert gaandeweg verschillende personages. In het begin kan dit heel even verwarrend zijn, maar ik vind ze best goed uitgewerkt, waardoor je ook goed mee bent met wie wie is en wat hun relatie tot Rémi is of wat hun doel in het verhaal is.
Hoewel het boek best filmisch beschreven is, lijkt het soms alsof de auteur zich soms ook een beetje verliest in een ellenlange beschrijving van een kamer, uitzicht, beeld, … Uiteraard is dit om een zo goed mogelijke weergave van de nieuwe wereld te beschrijven en om het zo duidelijk mogelijk te maken. Hierdoor vind ik dat er jammer genoeg soms weinig aan de verbeelding van de lezer overgelaten. Zeker in een Young Adult-boek.
Niets is zo leuk om je eigen verbeelding te laten werken, of die nu klopt met het beeld van de auteur of niet.

Naarmate het verhaal vorderde, merkte ik wel dat dit minder en minder werd en dat de auteur dus net wél weer veel verbeelding overliet bij de lezer. Het werd dus ruimschoots weer goed gemaakt.
Het verhaal is het eerste deel in een trilogie en is dus een aanloop naar die nieuwe wereld, naar de toekomst. Het is sowieso een spannend Young Adult-verhaal, dat soms iets trager verloopt, en dan weer sneller, maar dat absoluut de moeite waard is om te lezen! Het is een geweldig debuut en ik ben benieuwd naar de aankomende vervolgen!
Mijn eindoordeel:
Cover: 4.5 * / 5
Inhoud: 4.5 * / 5
Verhaal: 3.5 * / 5
Extra informatie over de auteur:
Lara Reims is een Nederlandse auteur die tien jaar geleden naar Parijs, Frankrijk verhuisde. Upgrade is haar debuut. Het liefst schrijft ze spannende verhalen over jongeren die op zoek zijn naar zichzelf in een veranderende wereld (sic: Hamley Books)
Voor meer info over de auteur: check https://hamleybooks.be/lara-reims/ of
https://www.larareims.com/
Extra informatie over het boek:
Upgrade: Rémi Versie 1.0 is het eerste deel van een trilogie. De volgende delen zullen respectievelijk uitkomen in 2019 en 2020.
Upgrade
Auteur: Lara Reims
Uitgeverij: Hamley Books
Aantal pagina's: 341 pagina's
Sinds 24 april verkrijgbaar als e-boek en hardcover via:
Standaard Boekhandel, www.bookspot.be of www.bookspot.nl, www.ako.nl
Disclaimer:
Ik mocht dit boek lezen dankzij een samenwerking met Hamley Books, een jonge uitgeverij die ook onder andere Sandra J. Paul, Joanne Carlton, Pat Craenebroek, Esther Boek, nu Lara Reims en binnenkort ook Luna Van Roosen zal uitgeven.
Daarom graag ook mijn oprechte dank aan de drijvende krachten achter Hamley Books, Sandra en Cathy, voor deze leuke samenwerking, het mooie pakketje (foto's: zie de Facebookpagina van deze blog!) en deze unieke kans om dit boek te mogen recenseren.
Zie hier een foto van het prachtige pakketje dat ik mocht ontvangen: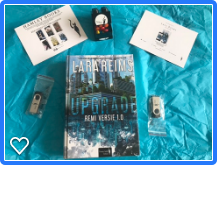 Deze samenwerking beïnvloedt geenszins mijn oordeel over dit boek. Een recensie op deze blog gepost bevat altijd mijn eigen en eerlijke mening!
Voor duidelijkere foto's verwijs ik graag naar onze facebookpagina:
https://www.facebook.com/booksandflix/
Ben je tot hier geraakt? Top! Komend weekend lanceer ik nog een wedstrijd waarin je een leuke goodie kan winnen die met dit boek en Hamley Books te maken heeft. Ben je benieuwd? Check dit weekend dan zeker onze facebookpagina!