Hallo lieve lezers
Recent heb ik niet één, maar twee pakketjes mogen ontvangen van Hamley Books om deel te nemen aan een blogtour.
De ene blogtour doe ik vandaag, namelijk "Kwijt" van Sandra J. Paul. De andere is een blogtour voor het boek van Luna Van Roosen, een jonge dame die een sprookjesachtig verhaal heeft neergeschreven. Die recensie zal je morgen 6 oktober op HIER kunnen terugvinden.
Hieronder alvast een graphic van alle deelnemende blogs voor "Kwijt" van Sandra J. Paul.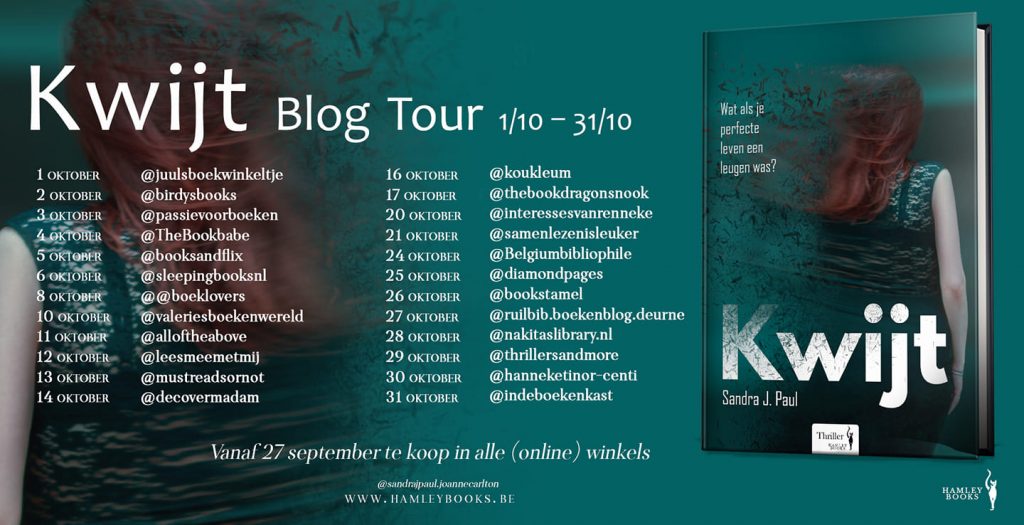 En hieronder een foto van het prachtige pakketje dat ik mocht ontvangen:
Zoals jullie kunnen zien is dit een leuk pakketje met enkele leuke items gelinkt aan het boek. Aangezien het verhaal gaat over een man die zijn geheugen kwijt is van een tijdspanne van twee jaar, zitten er een aantal geheugensteuntjes bij, zoals een IQ-spel om te puzzelen, een puzzelboekje en een notebloc met een potlood, om uiteraard notities neer te pennen.
Over naar het verhaal:
Het verhaal gaat over Jim Vermeersch. Hij is getrouwd met Iris en heeft een zoon, Vince. Het gezin woont in Londen en Jim baat er een patisserie uit. Hij is helemaal gelukkig.
Plots wordt hij wakker in het oude huis van zijn ouders, maar hij weet niet hoe hij er terecht is gekomen. Hij is nog meer met verstomming geslagen wanneer hij ontdekt dat hij wakker wordt op 8 augustus 2019 en niet op 8 augustus 2017, het moment van zijn laatste herinneringen.
Zijn zaak is weg, zijn vrouw is weg en zijn zoon doet raar tegen hem. Wat is er in godsnaam gebeurt in de afgelopen twee jaar? En waarom herinnert Jim zich hier niets meer van?
Hij gaat op zoek naar antwoorden, maar krijgt alleen nog maar meer vragen, waarbij niemand anders hem lijkt te kunnen helpen.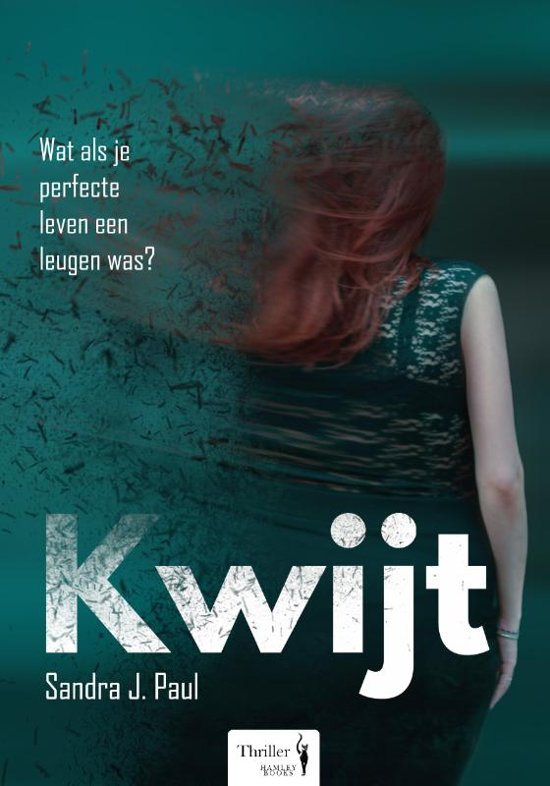 Mijn mening:
De cover van dit boek is prachtig. Ook eentje die ik meteen zou oppakken in de boekhandel om van dichterbij te bekijken. Ook de flaptekst doet het hem:
Jim wordt wakker in een koelcel in zijn patisserie. Er is iets gebeurd, maar hij weet niet wie of waarom. In het volgende hoofdstuk wordt Jim opnieuw wakker, maar deze keer is de situatie nóg anders. Hij wordt namelijk wakker in het huis van zijn ouders, met vreemde dieren die hem lijken te kennen. Je zit dus meteen in het verhaal, Jim weet niet wat er gebeurd is, net zo min als de lezer, en stilaan gaat hij op zoek naar antwoorden. Dat stilaan mag je gerust letterlijk nemen.
In de volgende hoofdstukken leer je Jim en zijn gezin beter kennen. Wie zijn ze, wat doen ze, waar is hij terecht gekomen, wie is zijn beste vriend Joris, waarom is hij van België naar Londen verhuisd, …
Vervolgens ontdekt Jim dat zijn vrouw weg is, maar het waarom daagt hem nog niet. Enkel zijn zoon Vince doet nogal koel en afstandelijk tegen hem. Waarom? Wat is er in godsnaam gebeurd?
Alles wordt soms tot in detail beschreven. Dat hoeft niet noodzakelijk. Voor mij neemt het namelijk wat van de fantasie en het idee van de lezer af. Door de vele details wordt het op den duur een beetje langdradig en je lijkt even vast te zitten in de gezinssituatie vooraleer er wordt overgegaan naar het zoeken naar antwoorden. Zeker door het switchen van heden naar verleden en weer terug naar het heden. Net doordat sommige details of zaken "overbeschreven" en dus langdradig worden, moet je nochtans goed de aandacht erbij houden.
Gaandeweg komen er meer personages en passages bij die stukje bij beetje mede een deel zijn van de puzzel en/of het antwoord.
De insteek en het puzzelen is leuk. Het is duidelijk een psychologische thriller. Je wilt als lezer namelijk zelf ook weten wat er met Jim gebeurd is en wat er met zijn gezin is gebeurd. Net dat maakt het boek dan weer moeilijk weg te leggen, ondanks dat je soms even een korte break kunt gebruiken om alles op een rijtje te zetten of te recapituleren.
Desondanks weet Sandra J. Paul je ook weer met verschillende plottwists te verrassen, vooral op het einde. En nee, sommige daarvan zag ik écht niet aankomen!
Mijn score:
Ik geef het boek 3.5 * / 5.

Info over het boek:
"Kwijt" van Sandra J. Paul
Genre: (Psychologische) thriller
Uitgeverij Hamley Books
329 pagina's
Prijs: 19,95 euro (boek) en 9.95 euro (e-boek)
Te koop via www.hamleybooks.com, Standaard Boekhandel, www.bookspot.be, bol.com