Hallo lieve lezers, zoals gisteren aangekondigd, neem ik dit weekend deel aan niet één, maar twee blogtours. Gisteren besprak ik "Kwijt" van Sandra J. Paul. Deze recensie vind je HIER.
Vandaag is het dus de beurt aan Day Dreamer van Luna Van Roosen. Bekijk hieronder alle deelnemende blogs.
Ook hiervoor mocht ik een prachtig pakketje ontvangen dat me onmiddellijk doet wegdromen. Bekijk hieronder de foto:
Het pakket bevat (uiteraard) het boek Day Dreamer, enkele takjes rozen, rozenblaadjes, kaarsjes met een lichte geur, facial toner met rozenwater en een jelly cleanser, beiden om het gezicht te reinigen. Dank je wel Luna en Hamley Books, dat wordt zeker geapprecieerd en zal goed van pas komen! 😉
Over naar het boek!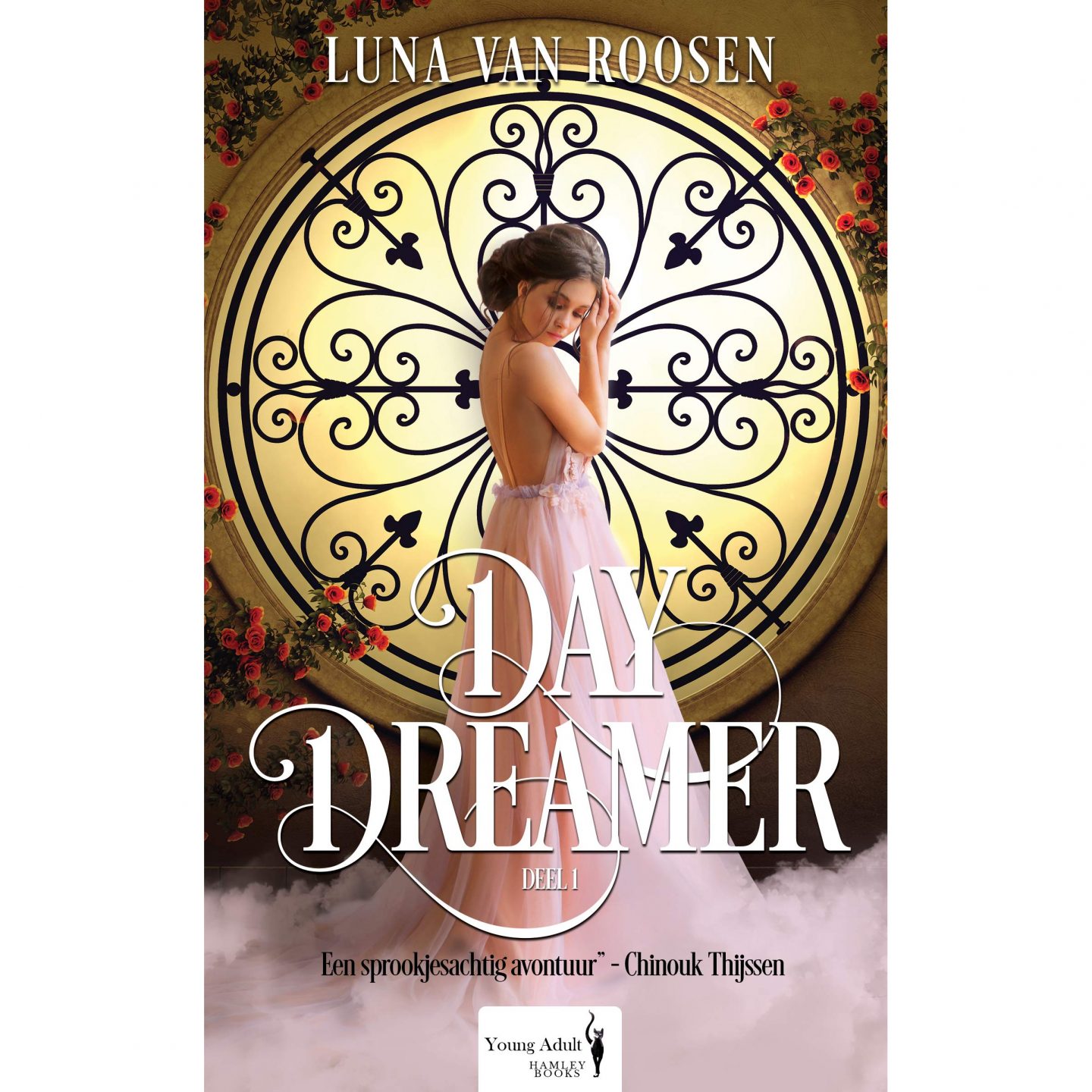 "Dit is mijn verhaal, mijn eigen sprookjesachtige vertelling over een droomprins die verliefd wordt op een draak van een stiefzus. Een verhaal dat zo verkeerd loopt, dat geen enkele pen ter wereld in staat is om ht te herschrijven."

Dat belooft …
"Lora's aankomst stond niet in de sterren geschreven. Het stond ook niet in theebladeren, of in een van de boeken in de bibliotheek.
Maar toch staat ze op een nacht aan de kasteelpoort met haar hond Henry die haar daarheen heeft geleid.
Het kasteel herbergt een geheim dat iedereen in zijn grip houdt. Ook bij Lora begint het muiltje al snel te knellen.
Is zij door haar komst echter in staat om tussen al de doornen ook rozen te
doen bloeien?

Day Dreamer is het eerste deel uit een tweeluik. Het tweede en laatste deel Night Thinker verschijnt in het voorjaar van 2020."
Wat vond ik van het boek?
De cover is alleszins prachtig! Het is een boek dat ik ook zou oppakken in de boekenwinkel. Iets trekt me naar dit boek en dat heeft altijd een streepje voor. Ik ben namelijk iemand die altijd een boek beoordeelt op zijn cover, en dan pas de flaptekst.
Ook de flaptekst spreekt me enorm aan. Wie is Lora en hoe komt ze bij een kasteelpoort terecht? Een geheim? Welk dan? Wat is er aan de hand?
Sprookje? Oei, wordt het een echt sprookje of eerder een re-telling?
Dat laatste houdt mij alleszins niet tegen om het boek vol goesting open te slaan. Meteen vallen mij de prachtige tekeningen in het boek op. Dit komt bij elk hoofdstuk terug.
Het boek wordt in 1ste persoonsvorm verteld. Dat is wel leuk, zo kun je je onmiddellijk in Lora's hoofd verplaatsen en beleef je het verhaal des te intenser. Je leert meteen het gezin van Luna kennen, en de gebeurtenissen volgen zich in sneltempo op.
Dat stoort totaal niet, want zo vliegt het verhaal vooruit en heb je het boek uit voordat je het door hebt.
Het boek is vlot en duidelijk volwassen geschreven qua schrijfstijl. Het personage lijkt me eerder een beetje getroubleerd, met een laag zelfbeeld en die zicht het liefst verbergt, maar tegelijkertijd ook wel een beetje herkenbaar qua dromen en visies. Welk meisje heeft deze issues/dromen niet gehad?
Gaandeweg ontdek je de retelling van enkele sprookjes (om te weten welke, moet je zélf het boek lezen! 😉 )
Dit boek werd geschreven door Luna Van Roosen, een 19-jarige auteur die met dit boek haar debuut maakt. Ik denk dat we nog veel van Luna Van Roosen gaan horen, want dit boek smeekt om meer, en dan heb ik het niet enkel over het vervolg Night Thinker, die pas in het voorjaar van 2020 uitkomt (ik wil nú verderlezen!!!).
Ik ben benieuwd naar de volgende verhalen van Luna!
Mijn score:
4 * / 5
Info over het boek:
Day Dreamer van Luna Van Roosen – Deel 1 van 2
Genre: Young Adult
Uitgeverij Hamley Books
279 pagina's
Prijs: Boek (hardcover): 18.99 euro – E-boek: 7.95 euro
Te koop via alle (online) boekhandels.